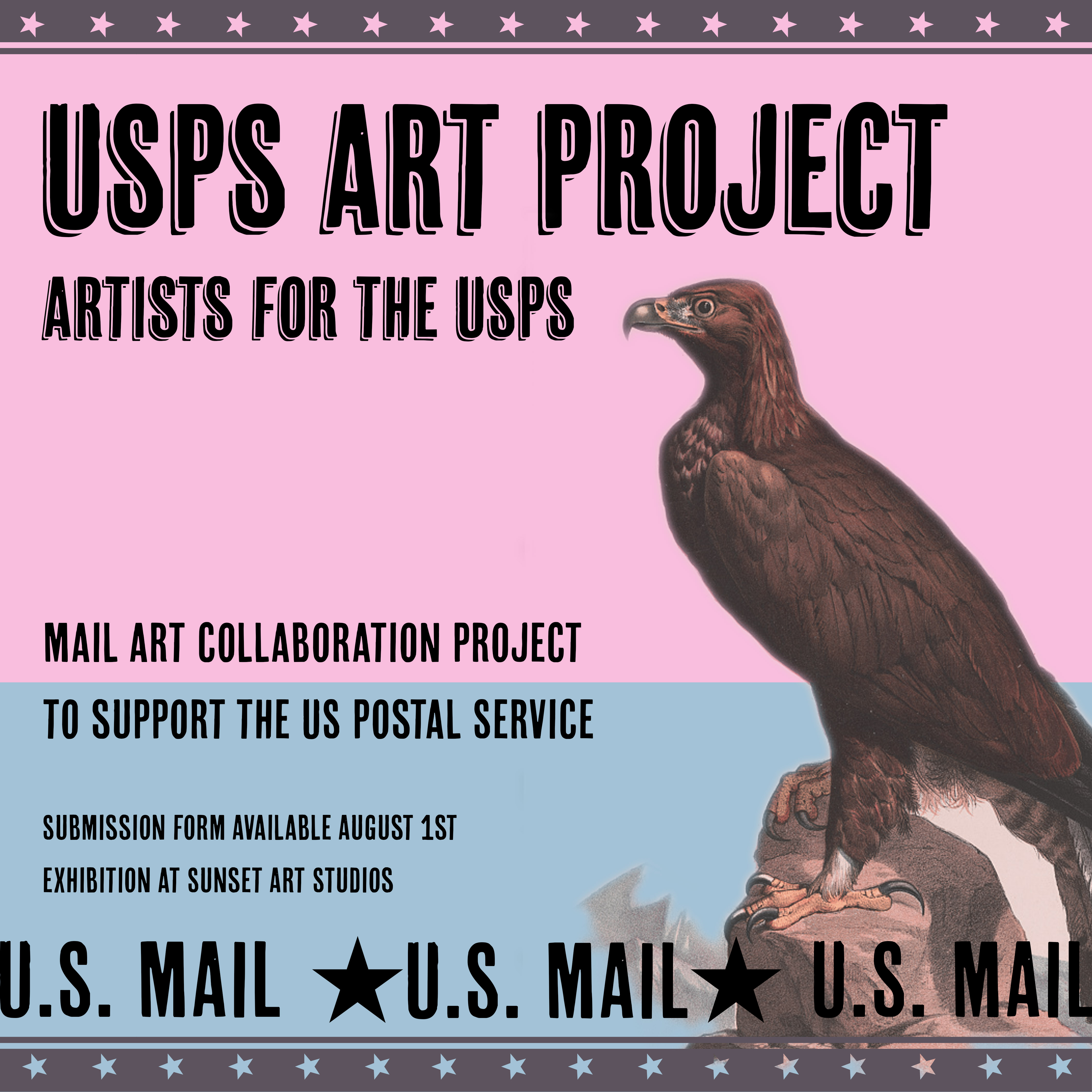 USPS Art Project - Exhibition Entry
Saturday, August 01 2020, 12:00am
The USPS Art Project is a mail art artist collaboration project, free and open for anyone who wants to participate. The goal is for unique collaborative artworks to be created, allowing the artists to establish deeper connections with others while practicing social distancing and in doing so, help the financially struggling USPS by sending and receiving packages. The finished artworks are shared online on the @uspsartproject social media accounts.
Hundreds of artists have joined in the project, ranging from sculpture to painting, drawing, mixed media, fiber art and more. The artists now have the opportunity to submit their collaborations for several exhibition opportunities, a hybrid traveling exhibition / theme exhibition with locations and dates secured at three venues thus far. This is a non-juried exhibition; artworks are accepted on a rolling submission basis until capacity is reached at each respective exhibition space. Artists who exceed a location's capacity have the option to enter into the following location.
The current dates and locations are as follows:
Pelham Art Center
155 Fifth Ave
Pelham, NY 10803
Exhibition Dates: August 1st - 31st, 2020
(Finished artworks have to be submitted and received at the gallery by July 18th, 2020)
Opening Reception August 1st, 1-4PM
Visitors are invited to attend the opening reception in groups of no more than 10 at a time. All visitors will be required to wear masks and a designated flow of the viewing space will be enforced to maintain social distancing standards.
This will be the first physical exhibition of USPS Art Project artworks since it first began in April. Pelham Art Center invites visitors to view the exhibition in groups no larger than 10 people this August. All current health guidelines must be followed.
Summer gallery hours are: Tuesday-Friday 11am-4pm, Saturday 12pm-4pm, Closed Sunday and Monday (excluding Sunday, August 2nd when Pelham Art Center is open for Community Art Day). The exhibition will also be open for the first Sunday of August during Pelham Art Center's Community Art Day, 1pm-3pm. After exhibiting at Pelham Art Center in August, the USPS Art Project will travel to Ely Center of Contemporary Art.
Ely Center of Contemporary Art
51 Trumbull St
New Haven, CT 06510
Exhibition Dates: Sept 13 - Nov 1st, 2020
Gallery Hours: TBD
Works submitted to the Pelham Art Center do not need to be resubmitted for this exhibition. This form should be used for artworks that were made as a part of the USPS Art Project and have not yet been a part of an exhibition.
ECOCA requests that artworks be sent unframed, if possible.
There are no size limitations to artwork submissions.
Works must be mailed through the Postal Service.
Please support this project via the GoFundMe to help cover the costs of return shipping and support this timely travelling exhibition. Donate HERE. (Donations also support the expenses from shipping works from Pelham Art Center to the ECOCA for the exhibition.)
All artworks must be received by September 3rd.
SUBMISSION FORM
This will be the second physical exhibition of USPS Art Project artworks. Artists had the option to allow Artworks shown in the Pelham Art Center to travel to the ECOCA who will also hang additional pieces submitted by artists after the Pelham show's deadline. The gallery will accept new submissions until reaching capacity, in which case in order to display and showcase the most works possible that were created by artists participating in the project, some artworks that are 12" and under may be transferred to the Dallas location if they reach capacity. This will be determined on the amount of works created and submitted for the exhibitions and the capacity to show them.
Sunset Art Studios
Street Address:
1811 Balboa Place
Dallas, TX 75224
Mailing Address:
Sunset Art Studios
PO Box 5359
Dallas, TX 75208
Exhibition Dates: Oct 1 - 31st, 2020
(Submissions start Aug 1st, Artworks must be received by Sept 15th. NOTE: Artworks must be 12" and under in dimension for this location.)
Gallery Hours: TBD
This will be the third physical exhibition of USPS Art Project artworks. Works in this exhibition will be limited to 12" and under in size. The gallery will accept submissions until they reach capacity. Some artworks may travel from the Pelham Art Center exhibition if the Ely Center of Contemporary Art reaches capacity.
HOW TO PARTICIPATE:
Free and open for all to participate.
Find a friend, colleague or family member to collaborate with. Each partner begins an artwork, and ships it via the USPS to the other person. If you are having trouble finding a partner, there is a Facebook Group called Artists for the USPS where you can find partners and share your experiences.
TIP! Sign your artwork before you mail it so that the finished piece has both signatures!
Follow all CDC health guidelines when shipping and receiving packages.

Post to social media both your half begun artwork and completed artworks by tagging @uspsartproject in your captions and using the hashtags #uspsartproject #artistsfortheusps (on either Instagram or Facebook)

Artists complete the artworks sent to them.
If choosing to submit the works for exhibition, see the dates/deadlines above.
Repeat as often as you like! There is no limit to how many collaborations you do, however if submitting for the exhibitions, please follow that venues guidelines for submissions.
See Liability Waiver and Agreement here.